Client: Vastint
Architects: Penoyoe & Prasad, Carey Jones Chapman Tolcher, Hunters
Key Features
Urban regeneration

Primary school

Commercial

Residential

Precast concrete structures

Spanning over deep sewers

Re-built chimney structures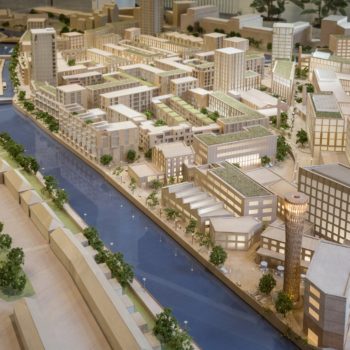 Sugar House Island, taking its name from the 19th Century brick warehouse building that formed part of a sugar refinery, is a community-focussed development by Vastint. The site focuses not just on providing homes, but a community within the area bounded by the Three Mills Wall River and the River Lea in Stratford. The site will provide a total of 1,200 new homes as well as bringing 2,500 jobs to the locality through the creation of a new business hub.
We are appointed to undertake structural design work for four phases of the overall site development to date. These include:
Sugar House Island Primary School, providing a new purpose-built primary school to serve 420 pupils.
Site MU2 comprising 27,000 m2 of office space in three blocks of up to 7 storeys
Site MU4 including 60 new-build homes in two apartment blocks, as well as approximately 2,400m2 flexible commercial space.
Site R3 comprising 156 new homes within two apartment blocks and mews houses.
Site MU2 includes precast concrete frame construction, with large column-free areas achieved by using precast concrete floor planks spanning an incredible 16.7m, which are in-turn supported on precast concrete perimeter beams and columns. Steel Deltabeams spanning up to 13m between columns are used internally to support the precast planks. Crucially the Deltabeams are contained within the structural floor zone, avoiding downstands and providing unimpeded distribution of services throughout as per our client's brief.
The two residential blocks on site MU4 are designed with a precast concrete frame above first floor transfer deck overlying commercial space at ground floor level. The first floor slabs are designed as transfer decks, with maximum thickness 800mm, carrying up to 10 storeys of precast concrete frame. The design also incorporates an existing energy centre with no requirement for transfer structures.
We have designed two options for the primary school on MU1, as both a steel frame and an insitu concrete frame, with the RC frame option favoured by the frame contractor for construction. The 3-storey building includes first floor cantilevers and long-span slabs providing an impressive 16m clear span over the main hall, with a mixed-use sports pitch supported on the roof.
The site features two obstructions – a 20m deep North London Relief Sewer and a 2.5m deep adopted surface water sewer. Both sewers have exclusion zones, resulting in the need for 12m spanning transfer ground beams carrying column loads of up to 100 tonnes, and also carrying stair cores that are used for building stability.
Temporary works include contig piles along the High Street elevation, which we recommended should be separated from the main structure but designed for the permanent case so the office buildings do not become highway structures. This simplifies the arrangements and keeps the highway applications limited to separate and more simple temporary-permanent works.
We have worked closely with Gravity since the beginning on a number of large long term projects and we value the efficiency and accuracy applied to all engagements. They constantly identify and resolve difficulties and are reliable in meeting deadlines.

Having worked with Gravity Consulting Engineers in partnership for a number of years, the service received is excellent and often resulting in cost effective, pragmatic structural solutions.

We have always found Gravity Consulting Engineers to be dedicated and efficient in providing construction information on time and of a high quality. We are currently using Gravity on two complex refurbishment residential schemes and the experience they have brought to the scheme has proved invaluable in obtaining a practicable and cost efficient solution. We would have no hesitation in recommending Gravity Consulting Engineers