Client: Berkeley Homes (North East London)
Architect: Hawkins Brown
Key Features
Demolition Works

New Build RC Frames

Basements

5,500 unit Urban Regeneration

Nature Reserve

Spanning Over Obstructions

Multiple Client Led Re-designs

Tight Delivery Timescales

Temporary works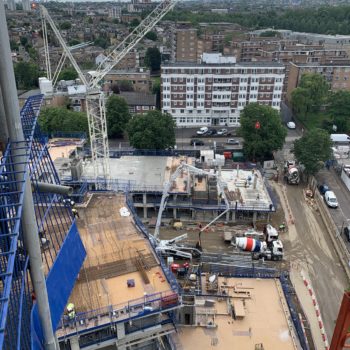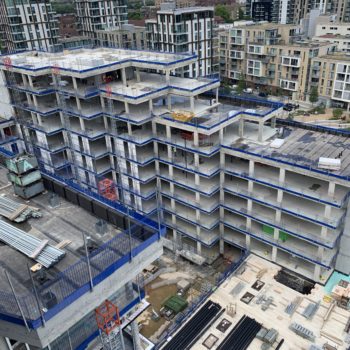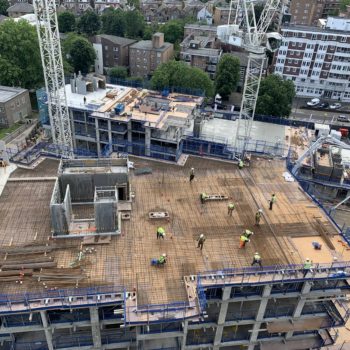 This project formed part of the broader 5,500 unit Woodberry Down Regeneration scheme, which Berkeley Homes are building in partnership with Hackney Borough Council. The site is located near Finsbury Park, and directly alongside the Woodberry Wetlands and East and West reservoirs. The new development is designed to replace aging council blocks and also to provide private accommodation. Our involvement in this project was Phase 2 of the development, comprising 670 high quality apartments in three adjoining sites: Sites B, D and F.
The designs included a total of 13 blocks that were phased in site orders F, D and B. Designs involved apartments in towers of up to 19 storeys that were designed for disproportionate collapse, to include detailed risk assessments with linked design involving demonstration of building robustness even with systematic removal of columns. Columns around the perimeter of the buildings in Site F were positioned at close centres to match the fenestration on the cladding system and we were therefore able to justify very small columns, so that there was less interference with cladding elements. This allowed the designs to be architecturally led.
All blocks featured angular and stepping floor plates to provide maximum views over the West Reservoir. Set-backs also featured at multiple levels yet we were able to design out thick transfer structures through an intelligent use of column positions. Similarly transfer elements at ground floor over the basement were minimised, resulting in an economic design.
Block B involved the design of two schemes in parallel to very tight deadlines, culminating in a final scheme that involved the elimination of the basement and introduction of a highly complicated network of suspended Durotan trenches that had to be woven into the ground floor slabs. The challenges did not end there. Virgin cables were discovered on the west side of the site, clashing with piles and foundations under perimeter of the 15 storey element. In order to avoid delays to piling our engineers and technicians worked over Christmas 2018 to hit a deadline for a new piling pack, and swiftly followed up with revised general arrangements and RC details to suit the changes. The delivery was successful, avoiding a delay to the piling works.
The podium slabs, situated over a large basement car park, were designed to support high quality landscaping design, archetypal of Berkeley Homes' developments, to include swales, low level planting, sweeping walkways and terrace gardens. The Site F development is now complete, and the team has enjoyed a pint in The Naturalist, a bar located on the ground floor in Block F1.
We have worked closely with Gravity since the beginning on a number of large long term projects and we value the efficiency and accuracy applied to all engagements. They constantly identify and resolve difficulties and are reliable in meeting deadlines.

Having worked with Gravity Consulting Engineers in partnership for a number of years, the service received is excellent and often resulting in cost effective, pragmatic structural solutions.

We have always found Gravity Consulting Engineers to be dedicated and efficient in providing construction information on time and of a high quality. We are currently using Gravity on two complex refurbishment residential schemes and the experience they have brought to the scheme has proved invaluable in obtaining a practicable and cost efficient solution. We would have no hesitation in recommending Gravity Consulting Engineers