Bellway Homes Limited (Thames Valley Division)
Architect: RMA
Key Features
New Build Multi-Storey Residential
Constrained Sensitive Urban Site
Complex Transfer Structures
Innovative Cantilevering Balcony Design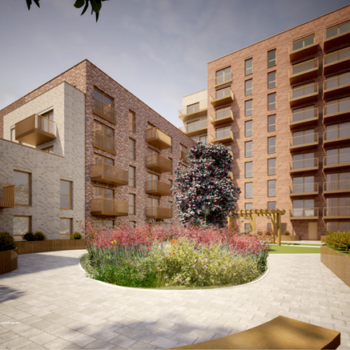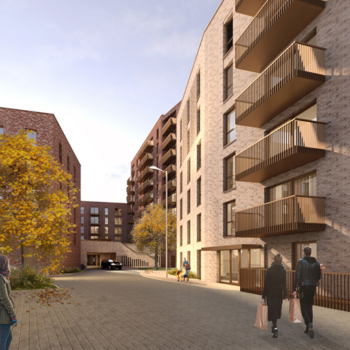 Located in Maidenhead town centre the original site contains two 4 storey office buildings from the 1970's together with several residential and commercial properties which include a sixteenth century Grade II Listed building.
The larger office buildings will be demolished with the remaining buildings to remain in occupation throughout the works. The new development comprises 5 new residential blocks containing 136 apartments linked together at first floor via a landscaped podium enclosing a ground floor communal car park.
We have been appointed to undertake the detailed civil and structural designfrom Stage 3 to completion. The project and all information co-ordination was undertaken in a BIM environment.
The urban brownfield site has sensitive boundary constraints including adjoining neighbours that will remain in-situ through the works and below ground sewers required Build Over and diversion works.
The blocks extend between 5 and 10 storeys high and include a basement area housing the site sprinkler tank and are designed from reinforced concrete supported on piled foundations.
Typically the required structural column grid for a residential development does not match the column grid required in a car park resulting in a deep transfer structure at the level where the two different grid systems collide resulting in an increase in construction depth and concrete volume. We collaborated closely with the architects and through careful placement of the column within the residential areas and the car park were able to omit over 50% of the transfer structures from the initial planning scheme resulting in a significant saving in concrete volume without compromising the design.
In block C where the transfer structure was unavoidable, we were able to remove columns at the lowest level and replace them with a single long span beam supporting 9 storeys of floor above enabling the desired architecture to be achieved on the floors above without compromising the car park layout below.
The large podium area measurement over 50m in both directions and due to it's nature is exposed to the elements making it more susceptible to temperature variations and hence expansions and contractions of the concrete. Gravity were able to design the reinforced concrete slab without the need for movement joints reducing the cost and long term maintenance risk that these elements can sometimes present.
The project contains over 100 cantilevering steel balconies. It was identified early that the installation of this number of balconies would require a significant amount of time from fabrication, partial pre-assembly, installation, and final onsite assembly. Gravity worked with a local steel fabricator/installer and the architects to develop a structural system that would allow the balconies to slide onto cantilevering pre-installed structural arms and significantly speed up the balcony installation process that the fabricator believed will increase the speed of construction to 3 times faster than the traditional approach saving in all aspects of the programme, including the temporary storage of the partially completed balconies.
We have worked closely with Gravity since the beginning on a number of large long term projects and we value the efficiency and accuracy applied to all engagements. They constantly identify and resolve difficulties and are reliable in meeting deadlines.

Having worked with Gravity Consulting Engineers in partnership for a number of years, the service received is excellent and often resulting in cost effective, pragmatic structural solutions.

We have always found Gravity Consulting Engineers to be dedicated and efficient in providing construction information on time and of a high quality. We are currently using Gravity on two complex refurbishment residential schemes and the experience they have brought to the scheme has proved invaluable in obtaining a practicable and cost efficient solution. We would have no hesitation in recommending Gravity Consulting Engineers