Client: Fairview New Homes Ltd
Architect: BM3 Architects
Key Features:
7-15 Storey Apartment Blocks
Commercial Space
Landscape Walkways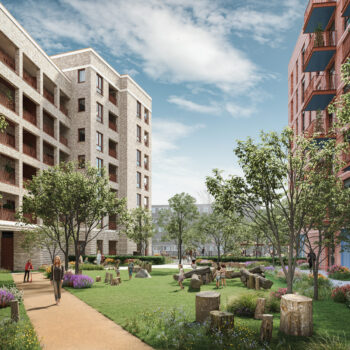 Situated along Brentford High Street within the London Borough of Hounslow, this location encompasses approximately 1.4 hectares of land with direct frontage to the River Brent on its southern and western sides. This mixed-use development primarily focused on residential spaces will create approximately 350 new homes. It will also provide ground floor space for work and leisure, enclosing two landscaped courtyards and shared roof gardens designated for residents.
The Gravity team has been entrusted with delivering structural engineering services, spanning from detailed design through to construction support, including the review of supplier drawings.
We have worked closely with Gravity since the beginning on a number of large long term projects and we value the efficiency and accuracy applied to all engagements. They constantly identify and resolve difficulties and are reliable in meeting deadlines.

Having worked with Gravity Consulting Engineers in partnership for a number of years, the service received is excellent and often resulting in cost effective, pragmatic structural solutions.

We have always found Gravity Consulting Engineers to be dedicated and efficient in providing construction information on time and of a high quality. We are currently using Gravity on two complex refurbishment residential schemes and the experience they have brought to the scheme has proved invaluable in obtaining a practicable and cost efficient solution. We would have no hesitation in recommending Gravity Consulting Engineers