Client: Barratt London
Architect: Allies and Morrison (A&M)
Key Features:
New build residential and commercial
Refurbishment
Water tower
Grade II Listed building
Air raid bunker
Raft foundations
Basements
Temporary works
Services build-overs
5 storey load bearing masonry
RC frames
Network Rail applications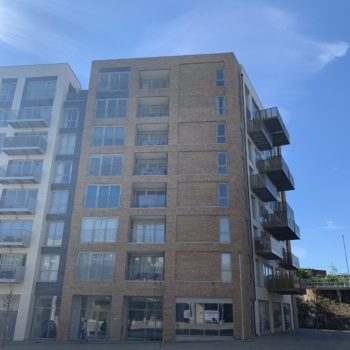 This site was a privilege for us to design, involving a fascinating structural inspection of Marconi's famous 1912 building, reportedly constructed in a record 3 months and also the site of the first radio broadcast in the world. The building features some of the earliest precast hollow core floor units we have seen, light weight steel trusses, heavy timber kingpost trusses and parallel chord timber trusses. The workmanship is exceptional and the building is in unbelievably good condition for its age. Our brief for this building included temporary works to form large openings through walls in some areas, and complete removal of walls in other areas, involving the design of new steel trusses to match the existing trusses as closely as possible.
Two other historic buildings were retained as part of the development on this site: the water tower, which is currently used as a radio station, and the power house. We undertook condition surveys on both of these buildings, to include a hair-raising survey in a 50m truck-mounted scissor lift, and designed steelwork to support structural modifications
In terms of new build superstructure designs, the buildings comprise a mix of 2 storey load bearing masonry structures, four to five storey load bearing masonry apartments on top of flat slab transfer decks, and an 8 storey reinforced concrete apartment block. The structural forms were typical of the type of structures that can be found on many sites. However, a variety of Gravity Consulting Engineers' skills were brought to bear on this project. The new build elements also presented challenges, leading to some innovative designs and good value engineering as follows:
1. The development of a new load bearing masonry design method that could be used to satisfy disproportionate collapse requirement without using horizontal and vertical ties in the structure.
2. A cantilevered 'floating' scaffold support structure (as seen to the left) that would allow construction of a lined permeable paving system to continue unimpeded by scaffold legs, thereby saving time on the construction programme. It also allowed our client use the ground floor level of the most prominent building as a sales centre while still allowing construction works to continue overhead.
3. The design of raft foundations following consultation with CGL, giving our client significant savings on two of the largest buildings on the site, by using car park basement structures to get us closer to decent ground bearing strata while just keeping us out of the ground water table.
4. The design of a cantilevered ground beams to hang half of an end terrace plot over the top of HV cables so the client could continue building until such time as the HV cables could be diverted.
We have worked closely with Gravity since the beginning on a number of large long term projects and we value the efficiency and accuracy applied to all engagements. They constantly identify and resolve difficulties and are reliable in meeting deadlines.

Having worked with Gravity Consulting Engineers in partnership for a number of years, the service received is excellent and often resulting in cost effective, pragmatic structural solutions.

We have always found Gravity Consulting Engineers to be dedicated and efficient in providing construction information on time and of a high quality. We are currently using Gravity on two complex refurbishment residential schemes and the experience they have brought to the scheme has proved invaluable in obtaining a practicable and cost efficient solution. We would have no hesitation in recommending Gravity Consulting Engineers