Client: Barratt London
Architect:
Allies and Morrison (A&M)
The scheme comprises the construction of 76 apartments situated in four refurbished Victorian properties, an existing 7 storey reinforced concrete library structure, and 3No. reinforced concrete frames.
Key Features
New Build
Concrete frame alterations (refurb)
Significant alterations to load bearing masonry Victorian structures
Façade retention
Double basement
Highway structures
Steep confined site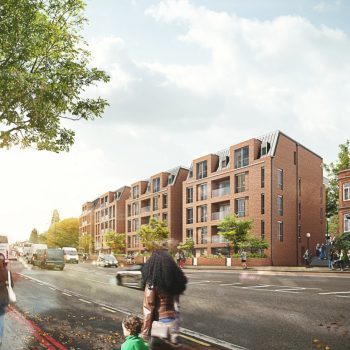 This project is perhaps one of the most interesting projects we have ever been appointed to design because it featured a very wide variety of structural forms, and was highly complicated on account of the steeply sloping nature of the site and limited space available.
Phase 1 involved the refurbishment of Victorian properties on Kidderpore Avenue, culminating in the removal of all internal floors and most internal walls.  In order to save the client money on this aspect of work we bypassed the original temporary works engineer's design that involved hot rolled external steel facade retention frames and screw piles, and devised a simple system of our own involving the use of the scaffold as a horizontal wind truss, using an extra scaffold access width, additional bracing and multiple couplers to provide the necessary slip resistance.  Our design saved our client significant temporary works costs that had not been accommodated in the original budget.
A concrete framed library conversion also formed part of this phase. The building was an unusual early form of waffle slab construction, built in the late 1960s to the highest standard. The changes to this building were considerable, involving the removal of two diagonally opposite cores and replacement with a new central core so that the client could use the existing floor plates more efficiently for conversion to residential use. These changes effectively involved splitting the building in two, but we were able to devise a sequence of work, set out clearly in our drawings that would help us minimise the temporary works that were required to maintain stability and safety during demolition and re-construction. Further work to the building involved the addition of one extra storey, which we were able to justify with minimal column strengthening through comparison of original loads against new loads. The construction went smoothly with minimal queries and was an excellent success for Gravity Consulting Engineers.
The final section of Phase 1 involved the construction of three 5 storey apartment blocks along Finchley Road, incorporating mansard roofs constructed using concrete and timber. These plots feature semi-basements containing plant rooms, cycle stores, refuse stores and residences.
Phase 2 of the development contained no refurbishment elements, but was equally interesting in that two basements were involved. The largest basement was a double basement with formation level situated below the water table, was sheet piled and was designed as a highway structure to support Kidderpore Avenue. This basement was the subject of a Basement Impact Assessment that was successfully completed by the project Geotechnical Engineers, CGL. The smaller basement was constructed using a contig piled wall, and supports the new Hampstead School of Arts building, which provides a brilliant focal point for the site along Kidderpore Walk.
All in all the scheme was a real slog for the team at Gravity but the results were worth the effort.
We have worked closely with Gravity since the beginning on a number of large long term projects and we value the efficiency and accuracy applied to all engagements. They constantly identify and resolve difficulties and are reliable in meeting deadlines.

Having worked with Gravity Consulting Engineers in partnership for a number of years, the service received is excellent and often resulting in cost effective, pragmatic structural solutions.

We have always found Gravity Consulting Engineers to be dedicated and efficient in providing construction information on time and of a high quality. We are currently using Gravity on two complex refurbishment residential schemes and the experience they have brought to the scheme has proved invaluable in obtaining a practicable and cost efficient solution. We would have no hesitation in recommending Gravity Consulting Engineers